Assignments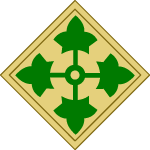 Ft. Carson, Colorado
4th Infantry Division
D Company 704th Main Support Battalion
January 1989 to December 1990
The 704th MSB was responsible for supporting all tracked and wheeled vehicles in the 4th Infantry Division. The 4th Infantry Division was originally established at Camp Greene, North Carolina in 1917. In 1970, it relocated to Ft. Carson. In 2003, members of the 4th Infantry Division were responsible for capturing Saddam Hussein in Tikrit, Iraq.
The 4th Infantry Division is known as the Ivy Division because the Roman numeral four is IV. It is also referred to as the Iron Horse Division since its mechanized infantry units are known for their power and speed. The Division's motto is Steadfast and Loyal. The 4th Infantry Division has been involved in all major military combat engagements since World War I. The Division is the recipient of two Presidential Unit Citations which are worn on the dress uniform.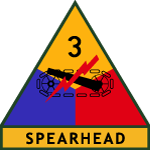 Hanau, Germany
3rd Armored Division
D Company 122nd Main Support Battalion
December 1990 to June 1991
The 122nd MSB was responsible for supporting tracked and wheeled vehicles in all of the 13 local kasernes in the Hanau community. It was the largest support battalion in the Frankfurt area. While Hanau is better known for its aviation brigade, there is an equally sized Cavalry battalion that requires support.
The nickname Spearhead was given to the 3rd Armored Division for its role as the spearhead of many combat operations in World War II. Not only was it the largest division operating in support of Operation Desert Storm, it was also the largest armored division in United States military history. After 51 years of military operations, the 3rd Armored Division officially came to an end in January of 1992.
Hanau, Germany
1st Armored Division
A Company 127th Aviation Support Battalion
June 1991 to January 1994
The 127th Aviation Support Battalion became part of the 1st Armored Division in 1991, shortly after the end of the Gulf War. The 4th Aviation Brigade also joined them. After the merger, the 127th ASB was responsible for maintenance and support of all helicopters in the 4th Brigade, along with the more than 300 wheeled vehicles.
Founded in 1941, the 1st Armored Division was the first United States armored division to see combat in World War II. The division was given the nickname Old Ironsides by Major General Bruce Magruder, the division's first commander. Operation Desert Storm was the first major combat operation that the division participated in since World War II. In 2005, the 1st Armored Division moved to Ft. Bliss, TX.